Emilia is co-founder and Artistic Director of Odd Eyes Theatre. She writes and directs for the company alongside her freelance work as director, playwright, dramaturg, lecturer and producer.
She is currently developing White Other, a surrealist play inspired by Pygmalion, by G.B. Shaw, after she directed the original for a three week run in London. The production was one big tick off her bucket list as it was an old dream of hers to direct this classic masterpiece. She recently adapted her  play  #Haters for the screen, also co-directing the short. As well as being Assistant Director to Adrian Jackson on Cathy, Emilia's recent work includes writing and developing Close Up, a new play about a raunchy 92-year-old ex-showgirl and a young woman aspiring TV director. She is due to direct a new production of Pygmalion by G.B. Shaw.
Previous roles as director include Cooking with Elvis by Lee Hall at Theatro Technis,  Content, by Hannah Puddefoot, at Theatre503 and collaborating as Assistant Director and dramaturg on Hold the Hearse! by Julie McNamara alongside Terry Galloway.
Her freelance credits include UK collaborations with Cardboard Citizens as assistant director, facilitator and writer, Roundhouse, Vital Xposure, Mimbre and international partnerships with Tyatro Barbone (Turkey) and Teatro Ricerche (Italy).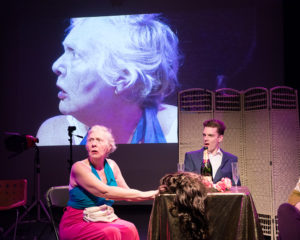 Emilia is invited Lecturer at Goldsmiths College and at London Metropolitan University where teaching Dramaturgy, Playwriting and Theatre of the Oppressed techniques. As a facilitator she has worked at the Roundhouse, Hoxton Hall, Midkent College, Cardboard Citizens,  Tyatro Barbone and secondary schools and universities in UK, Italy and Turkey. She devised and directed over 15 plays including Forum Theatre plays and 70 minute long plays Location, Location,   recipient of the Unlimited Big Local Award 2013, and How Can I Help?
Before getting into directing, Emilia trained as an actor in Italy with Beatrice Bracco (Teatro Blu), Lucia Panaro (Accademia SIlvio D'Amico), Tenerezza Fattore (Cassiopea Teatro). In the UK she trained with Augusto Boal and Adrian Jackson in Theatre of the Oppressed methodologies including Forum Theatre and Rainbow of Desire techniques. She worked as a performer and solo artist until 2008 when she toured UK festivals with Punchline, a farcical physical theatre performance that subverted gender stereotypes.
Theatre work includes #Haters, Location Location (site-specific at Mostart and Stour Space, 2013), How Can I Help? (Chats Palace, 2012). Family Album (Tyatro Barbone, Istanbul, 2012), Miss Argentina, Sketches of Madness, Dreams (Cardboard Citizens 2007),  Things (read at Arcola, 2006), Punchline (2008), forum theatre plays Mira's Maze, But…, Uno, due, tre stella (ISCaD), A Ridge Too Far (Cardboard Citizens, 2001) and the short film The Issue of the Violin (Gate Theatre, 2000)
Emilia's theatre work and teaching practice focuses on the dynamics of intra-cultural communication and on its surrealist, often comical by-products.  Her mission is to use theatre as creative communication medium for people from all countries and walks of life and to facilitate international performers' development across borders.
Here is a complete list of Emilia's writing and directing work.