Emilia is co-founder and Artistic Director of Odd Eyes Theatre and has written and directed all of the company's shows. She also is a freelance theatre director and art development consultant.
Her current work includes #haters, a new play she wrote and will direct which will showcase at Richmix in December and tour in autumn 2016. In February 2016 she will direct Cooking with Elvis by Lee Hall at Theatro Technis.
Her freelance credits include UK collaborations with Cardboard Citizens as director, facilitator, writer and joker, Vital Xposure, Mimbre, Gate Theatre and international partnerships with Tyatro Barbone (Turkey) and Teatro Ricerche (Italy).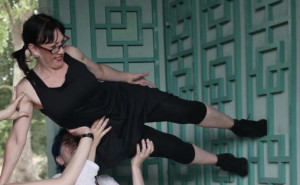 Emilia has also lectured at London Metropolitan University and led workshops on theatre for communication methodologies in UK, Italy and Turkey. For ISCaD / Odd Eyes Theatre she teaches Stanislavski-based acting techniques, physical theatre, forum theatre and theatre for language. For the company she devised and directed over 15 plays including Location Location,   recipient of the Unlimited Big Local Award 2013, and How Can I Help?
Before getting into directing, Emilia trained as an actor in Italy with Beatrice Bracco (Teatro Blu), Lucia Panaro (Accademia SIlvio D'Amico), Tenerezza Fattore (Cassiopea Teatro). She worked as a performer and solo artist until 2008 when she toured UK festivals with Punchline, a farcical physical theatre performance that subverted gender stereotypes.
Theatre work includes #haters (opening in November), Location Location (site-specific at Mostart and Sour Space, 2013), How Can I Help? (Chats Palace, 2012). Family Album (Tyatro Barbone, Istanbul, 2012), Miss Argentina, Sketches of Madness, Dreams (Cardboard Citizens 2007),  Things (read at Arcola, 2006), Punchline (2008), forum theatre plays Mira's Maze, But…, Uno, due, tre stella (ISCaD), A Ridge Too Far (Cardboard Citizens, 2001) and the short film The Issue of the Violin (Gate Theatre, 2000)