Summer 2014, the hottest in 22 years. A stab. A tweet. A social media storm.
Two young heroes worlds apart gravitate towards each other against the will of alluring internet chimeras. Two epic journeys set out in the storm of urban regeneration. Will their hands touch?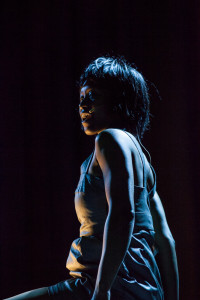 Inspired by real events, #Haters tells about impulsive acts, opt-outs and the abuse of power at the hand of faceless internet mobs with a good dose of self-irony and with extreme compassion for the characters involved. It's about opportunities, fate and values. It's about a world that changed suddenly right before your eyes and you could only witness.
Expect spoken words and outlandish sounds of every-day dreams. Expect bitter-sweet humour, tenderness and compassion. Expect to change your mind.
"The characters are engaging and writer Emilia Teglia refuses to stereotype either. The dialogue is fast-paced and rhythmic and shifts styles throughout, from rap battle to opera, prose conversation to verse-like soliloquies but, somehow, this works. The pace and style of the piece also changes constantly, giving the production light and shade and sweeping the audience along with it. And although the subject matter is dark, the play is also very funny. A Triumph for Emilia Teglia and Odd Eyes Theatre." (Jo Salkilld, blogger)
"I wait for someone to pick up #Haters by@EmiliaTeglia. Such a smart well written and directed piece of spoken word narrative theatre" (Adrian Jackson, Artistic Director Cardboard Citizens)
"Amazing performance, engaging and funny script, great direction, lovely set and the music absolutely stole the show!" (Petia Tzanova, 29)

"The issue is real and present, brought to the stage with powerful intensity, humour, wonderful music and stunning set." (Andrew Bradley, 27)

"An absolutely gripping play. It felt lyrical and often echoed a Greek classical play. The conflicts and ironies were powerful and really rung true." (Melek Erdal, 31)
Venue pack: www.tour-finder.org/listings/389/Haters
Press and venue enquires: [email protected]
Writer: Emilia Teglia
Director: Emilia Teglia
Music Director: Barbara Diana
Produced by Odd Eyes Theatre